This information is not to be used for navigation purposes!
PPR: Not Required
Observe Arrival and Departure Procedures (see below and AIP)!
RWY 16 – RIGHT HAND PATTERN (West of Airport)
RWY 34 – LEFT HAND PATTERN (West of Airport)
AD ELEVATION – 55″
RWY LENGTH: 1084 m x 30 m
GND Freq. 122.700
TWR Freq. 123.800

NOTES
Roma Urbe Airport is the busiest General Aviation Airport in Italy with 26.298 movements reported in 2017. As Such it is recommended to prepare your flight appropriately before arriving and departing from the heart of Rome. As you approach the airport, if you are given a left-downwind for Runway 34, as you complete your downwind leg before your turn to base, you will be able to admire the beauties of the city of Rome. On your right you will see the Soccer Stadium, and at your one to two O'clock you will be able to see the centre of city of Rome, from St' Peter's Basilica to the historical buildings of the city centre… Enjoy the spectacular view, and don't take your downwind too far (unless instructed to do so) as there are severe restrictions to overfly Rome!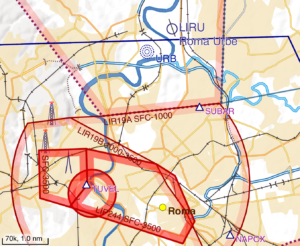 "AIRPORT CLOSED" NOTAM
Please be advised that this NOTAM is not very clear and must be read in full. See specifically letter "D" in the message of the NOTAM for the applicability times. For example, in Winter you may see "DAILY 0630-0700 AND SS PLUS30-2100" which means airport opens at 07.00 UTC, and closes at Sunset time – see Sunset Times on the right ("SS PLUS30" applies only to specific categories). Call ahead the local Aero Club on +39 06 8120290 if in doubt to check airport opening times.
ATC: "Report North West [of the field]"
Upon arriving to Roma Urbe, passing "Prima Porta" or "Settebagni", when called by tower to "Report NORTH-WEST", this refers to "S. Andrea Hospital" reporting point (in between "La Giustiniana", "Prima Porta" and "Fidene" reporting points, and Altitude must be exactly 2.000 Feet MSL to maintain separation with departing traffic, unless differently specified by ATC.
Preferred Deaparture Route
If going (or coming from) North-bound, "Passo Corese" is a much friendlier departure (and arrival) route, as on the Morlupo exit route, the terrain is higher, which causes more turbulence in the summer especially. The difference between the two is marginal, and the view is better on the east route anyhow!
Departure and Arrival Altitudes
Maintain strict altitude as requested by "Rome Information" (COM 125.750 MHz) and Urbe Tower (COM 123.800 MHz) until outside of the Urbe Airport control zone, as there is intense IFR traffic above (Ciampino Airport) and some ultralight traffic below. Mostly you will be flying 1500 Feet MSL for departures, and 2000 Feet MSL for arrivals when leaving and coming from the North. Keep an eye on your altimeter! 🙂
Fees
Fees can be paid at the Airport Office once you enter the main Apron "C", just above the bar/restaurant. Skydemon flying app provides good feedback on current prices. It will still be the cheapest option for coming into Rome when compared to Ciampino! (Fiumicino does not accept GA aircraft).
Customs
If coming from outside of Italy you MUST notify Customs for both arrivals and departures. See relevant NOTAM published. Call ‭+39 06 79340 122‬ to request customs service (number available 24 hours a day).
Click each image for full size.